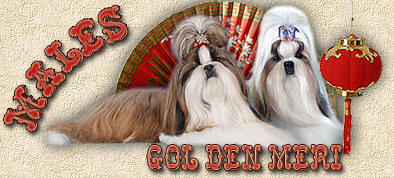 Russian JCh, Russian Ch, Byelorussian Ch

BIG-II

АGA'S CRAZY DREAM (Jimbo), b.12.03.2007
breeder - Alejandra Guajardo, Chili-AKC
owner - Avdonina M., "GolDen Meri" kennel


WW, AM, CAN, BRAS, PAN, ARG, CHIL, LATINOAM CH, GRAND CH PAN, ARG, CHIL
ISTA'S DREAM A LITTLE DREAM

CH

ISTA'S WICKED FANTASY

CH

ROJACKY'S RED ROBIN FANTASY

TAISHAN TICKLE YOUR FANTASY

CH

HEARTLAND MAKE DREAMS COME TRU

CH
ISTA'S WOULD I LIE TO YOU

CH

AGA'S FROM WISHES TO ETERNITY

WW, AM, CAN, BRAS, PAN, ARG, CHIL, LATINOAM CH, GRAND CH PAN, ARG, CHIL
ISTA'S DREAM A LITTLE DREAM

CH

ISTA'S WICKED FANTASY

CH

HEARTLAND MAKE DREAMS COME TRU

CH

WANG'S GOOD IDEA OF ALEJANDRA

MEI SAN WANG'S MICHAEL JORDON

CH

MING DYNASTY WANG'S NO IDEA

All photos are taken from on-line webpages. We say THANK YOU to all the owners who do not object against using these pictures for illustration of the above pedigree.
It is obvious that we can not know and can not possibly contact all the people who own or were lucky to own these beautiful Shih-tzus, so we are ready to remove any photo at their first request.
We shall be also thankful to anyone for sharing missing pictures of the dogs in this pedigree.

• BACK •